This past Friday, I received a fun little package in the mail. Who doesn't love getting
sex toys
in the mail?
Actually, this is the first I've ever received.
I was super excited to open it and find my new
Fairy Baby Wand
! My first thought was, "Wow! That is tiny!!" In fact, I was so surprised by it's size that I exclaimed this thought out loud to Jasper. :) It's advertised to be small enough to be able to bring with you anywhere, so I slipped it into my purse. You know, to have it with me....just in case....
******
Saturday night, Jasper and I headed to the St. Patrick's Day party. My new nipple charms looked great under my white tank top. Plus, I just felt super sexy. We got to the party nice and early; there were hardly any party-goers there yet. We got there so early, so we could have a couple drinks in my sister's room beforehand. Save a little $$ while at the party. :))
Since the party had already started, my brother-in-law let us into their room and went back down to resume his party duties
(he works security)
. Jasper and I enjoyed a drink each. Just sitting around their room, chatting, enjoying each other's company. I'd pulled out my new little toy just to check it's power intensity. I touched it against my pussy through my thong. It definitely packs a good little punch - especially considering it's size.
We were about to snap a couple pictures of me from behind, looking out the window, when there was a knock on the door.
It was my sister - coming up to enjoy a drink with us.
We hung out with her for a bit until she had to get back down to the registration table.
Jasper was fucking horny! It wasn't but a few minutes after she left that my panties were on the floor, and I was riding his cock while he sat in the chair in their room. Actually, we started with me sucking his cock while kneeling on all fours on the ottoman. It was a slightly different position than we usually enjoy, so it was great. Unfortunately, I did have a sore throat, so I couldn't do much...and I certainly couldn't deepthroat.
So, I turned around and sat on his cock, gliding up and down. He felt incredibly good inside me. Hitting all the right spots. After a few minutes, we stood up. I leaned against the window while he fucked me from behind. Yum! Now that's the way to get the party started.
Hehe. Pink was actually playing on iTunes on their computer while we fucked.
We cleaned-up, dressed, snapped a couple pics that were interrupted earlier, and headed down to the hotel restaurant for some dinner before heading to the party.
******
The actual party was relatively uneventful. We danced a little. Not nearly as much as I'd have liked. We actually did spend quite a bit of time chatting with 3 other couples. One couple's child got sick, so they left pretty early. The other two couples were very fun to chat with.
All 3 were, actually. It's just that our chatting with the first couple got cut short.
After the party, we did go up to the room of one of the couple's. They were fun to talk to, but frankly we weren't physically attracted to them, so a drink was as far as it was going to go.
******
After our drink, we hailed a cab and headed home. Jasper took our dog out and told me, "Do not undress." "Why?" I asked. "Because I want to undress you."
So, I waited without so much as taking off my shoes. See, I can totally be a good girl. :)
He undressed me. We licked and sucked and fucked. I don't think we tried anything new or crazy or particularly noteworthy, but it was great sex.
As it generally is.
******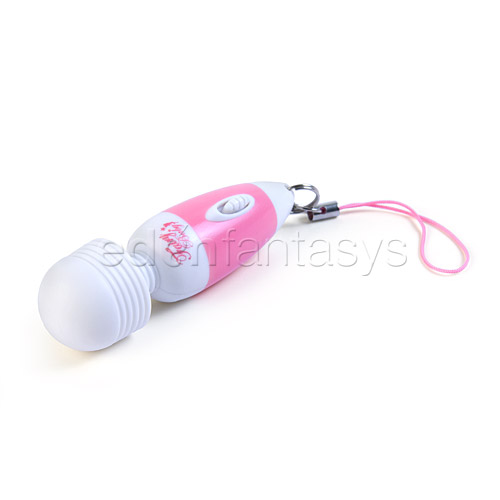 After he came, I wanted a little more. "Sweetie, will you grab me that tiny toy? It's in my purse." Like I mentioned earlier, this little baby definitely packs a good punch. He went to clean-up, as I continued to lie on my back. I'm actually pretty inexperienced with using
wand massagers
, as I generally prefer my hand. I had to be a little patient with this toy. Relaxing into it and letting the pleasure waft over me.
It was a fun experience to experiment with the powerful vibrations. How much pressure should I apply to my clit? How does it feel when I move down along my slit? What's it like when I use it to draw little circles?

Let me just say it definitely elicited some good, deep moaning out of me, and I was totally surprised with how hard I came after several minutes of playing around with it.
I would definitely recommend this little guy, if you want something small and pocket-sized. Plus, it's rechargeable via USB. Just be forewarned that it is a bit loud. I do intend to test the loudness sometime next week while my boss is traveling for work, so stay tuned for more adventures with my new Fairy Baby Wand.